Have Mobility Issues That Make Travel Difficult?
Don't let that stop you from "touring" the world! No matter what your disability, VITA DVDs can free you to "walk" in Rome, London, Paris, Venice, or on the Isle of Capri, in England's beautiful Cotswold villages, in a verdant Irish forest, in seven villages in Provence, or in five villages on the Italian Rivera; in fact, we have over 50 different locations filmed all over the world from which to choose!
One of our Amazon Customers recently wrote, "My whole life I have wanted to visit Egypt but I am house bound and will never be able to travel. NOW I CAN! With this DVD I was there! It is so awesome. The experience is so much more than was expected! I highly recommend this company for they do the very best tours. For walking on your treadmill or just enjoying being there! Sharon H." Note: These are real reviews from our customers on Amazon. Please click here to read them on Amazon's website.
With VITA DVDs' Virtual Walks and Virtual Bike Rides, you can once more have the freedom to travel the world - no matter what your mobility issues!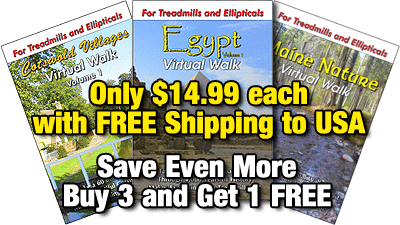 You'll walk down the Champs-Élysées in Paris, the Via Veneto in Rome, Istiklal Avenue in Istanbul, or the Mall in London, free as a bird and experiencing the sights and sounds just as if you were actually there! Arthritis, wheelchairs, walkers, or oxygen tanks will no longer prevent you from experiencing beautiful locations in the world.
To view our complete Video Catalog of over 50 world destinations, please click here.
You'll visit quaint English Villages in the Cotswolds, you'll walk in each of the five Italian villages that make up Cinque Terre, you'll walk in a lush green forest in Ireland or a botanical park in Hawaii, you'll visit seven French Villages in Provence, or take a slow bike ride along the scenic coast of Nova Scotia, right in your own home. Our Virtual Walks and Bike Rides are accompanied by the natural sounds - recorded in Dolby Stereo - you'd hear if you were actually walking there.
Another customer wrote, "Thank you and your family for making these videos. I have been able to take my elderly grandmother on virtual walks to distant lands that she would never have been able to go but has always dreamed of. The quiet moments of discovery that she and I have shared during our exploration of new lands is a wonderful gift. She looks like a child with a bright new world ahead of her. I am honored I can help fulfill a dream of hers. I thank you and your family for helping to make it possible. Newest eager fan, KIMBERLY W."
While our Virtual Walks and Bike Rides were originally designed to be used while exercising on treadmills or indoor exercise bikes, they also make Virtual Travel possible for people who have medical conditions from mild health issues that impact on their stamina to people with partial or complete paralysis, such as cerebral palsy and muscular dystrophy, ataxia, and multiple sclerosis.
VITA DVDs and videos are perfect for anyone in a wheelchair or with any kind of loss of mobility and find travel difficult due to arthritis, balance problems, difficulty climbing up steps, or stiff and painful joints. With these videos, the disabled viewer can experience "walking" in beautiful and historic world locations like Paris, the Amalfi Coast, Egypt, quaint English Villages, and the Isle of Capri, experiencing all the sights and sounds just as if they were actually there!
Want to watch video clips from each of our 50+ Virtual Experience Videos? Just click here to view our clips.
Another customer wrote, "I wanted to thank you so much for your wonderful DVDs. I bought the Ireland and Scotland DVDs about a month ago and just love them. I'm medically retired and suffer from PTSS and when I watch these DVDs of the walks through the countryside, I feel like I'm actually there and it makes me feel good. I deeply appreciate your successful efforts in putting these fantastic walks on DVDs. Thanks again, M."
And another, "Received your dvds earlier this week. What triumphs they are! I just love them, thank you, and the little "shorts" with the string quartet - very beautiful. I think I will have to send your "Morning in Venice" to my sister in Adelaide - she had her 50th birthday in Italy just last year. She loved Venice, and we hope to go there & UK in 2012. Thank you again for the dvds, they are truly "therapeutic" for me at the moment, and very restful as well. Went to the hospital today to have my 5th of 6 chemo treatments, however they sent me home because my white cell count is too low at the moment - need to wait till next week - frustrating. Came home grumpy, & put your dvds on - better now! Haha! Take care, Kind regards, Kathleen"
To view our complete Video Catalog of over 50 world destinations, please click here.
Yet another Amazon customer wrote, "This is a masterpiece! I felt as if I were actually taking that ride through the mountain twists, turns, and into heavy fog. The photography is excellent! This is the way the drive through the mountains really feels. At one point we even go through thick fog. I was wondering if we would be able to see at all. If you enjoy some majestic scenery as you work out, you may enjoy this DVD. The preview of some of their other DVDs was worth the money to me. If I could, I would get ALL of them!!! Susan N."
Another Amazon customer said, "After doing Ancestry.com for a solid 3 months (every night/3 to 4 hours a night), we wanted to visualize the scenery rather than look at YouTube videos and images online. Great price and goes well in our ancestral video library. Sarah A."
We even have Virtual Cruises to enjoy!
Want to watch video clips from each of our 50+ Virtual Experience Videos? Just click here to view our clips.
Fortunately, our unique Virtual Travel DVDs can let you instantly experience "walking in" Paris, Rome, Venice, Capri, the Amalfi Coast, London, Kent, the Cotswolds, Galway, Edinburgh, or even Cairo and Istanbul. And there are no mobility issues or other hassles. Just place one of our Virtual Travel DVDs in your DVD player and instantly you will be "walking" in Rome along the famous Via Veneto, or taking a stroll beside the ancient Pyramids in Egypt. We even have HD Download versions of our DVDs.
To view our complete Video Catalog of over 50 world destinations, please click here.
Another Customer wrote, "I so loved walking thru the Cotswolds, that I bought 3 more of your dvds. Last night we walked through Egypt, awesome! Seine River Cruise was lovely, but we prefer the natural sounds to the music soundtrack. Hearing the actual sounds helps the virtual travel experience, it's almost like Star Trek's Holodeck! Thanks for a great product.... I hope your Pompeii dvd is available soon. We'll be back.... Peggy, Franklinville, NJ"
We've spent the past 17 years filming these Virtual Experience Videos and DVDs all over the world so you can travel the world without leaving your living room! You can visit over 40 beautiful and historic locations around the world including Italy, France, Egypt, Greece, Canada, Turkey, the United Kingdom, Ireland,Scotland and the USA. And all of our Virtual Experience Videos are shot with professional High Definition Video Cameras using Camera Stabilization Equipment!
All our Virtual Experience DVDs are only $14.99 each - and if you order 3, you'll get one more FREE; order 5 and get 2 more FREE; order 8 and get 3 more FREE; and order 10 and get 5 more FREE. Plus FREE shipping in the USA and only the actual postage charge for International Shipping - NO Handling Fee! And, in most cases, we ship your order within one business day! To Order or to view our complete Video Catalog of over 50 world destinations, please click here.
Yet another of our Amazon Customers recently wrote, "I love these walking tours! I am house bound now and unable to travel. With these DVD's I am now traveling around the world from my Treadmill. They are so good! I feel transported to these places. They are so wonderful! I have purchased many of their tours and I promise you will not be disappointed! Every one them is good. I am so grateful to the folks that made these DVD's. Thank you so much! Susan"
The difficult part may be selecting where in the world you'd like to begin your virtual travel...
If you're interested in history then perhaps you'd like to visit the most historic locations in Rome: the Ancient Roman Forum, the Palatine, Piazza Navona, the Pantheon, the Trevi Fountain, and the Coliseum.
If you like quaint villages, then you'd probably like to experience five different beautiful villages in England's Cotswolds. And best of all, you can choose between Cotswold Villages Walk Volume 1 or Volume 2!
And have you ever wanted to "hike" part of the Appalachian Trail? Well, with VITA DVDs you can do that and enjoy the fantastic view on a clear day from the top of Max Patch in North Carolina - what an experience!
If you like Nature, then choose one of our numerous Nature Walks - possibly our Maine Nature Walk which follows a fast running stream in the Maine forest, or our Florida Nature Walk which takes you deep into a Cypress Swamp, or even our Ireland Nature Walk which takes you through the grounds of an historic Irish Estate.
If you like to travel, then choose from our "Walking Tour Series." You can tour Venice, Paris, Rome, London, Florence, or Istanbul.
To view our complete Video Catalog of over 50 world destinations, please click here.
Virtual Bike Rides Filmed in Scotland, Ireland, Canada, and the US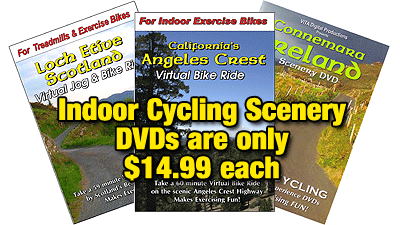 We even have a series of Virtual Biking DVDs that takes you on Bike Rides around the world. You can cycle in Scotland - either in and around Loch Etive or in Scenic Argyll; in Ireland - either in Connemara or County Clare; in England's Devon and Cornwall; and in California's Angeles Crest Highway; in Mississippi on the Natchez Trace Parkway; and in North Carolina's Blue Ridge Parkway.
A VITA DVDs Customer wrote, "Five years ago I was critically injured while biking. I have had numerous knee and facial surgeries. I lost all the ligaments in the left knee when I got staph after the third surgery on the left leg. I can't play hockey, ski, or run anymore but I can still bike. Thank God. Your videos are a blast and far safer. Thanks, Mark J."
To read even more VITA DVDs Customer Reviews, please click here.
VITA DVDs was the first company to film and produce Virtual Experience Walking Videos starting back in 2000. We also supply High Definition Stock Footage to Television and Motion Picture Production companies around the world. Our tripod footage has been purchased and shown in documentaries, commercials, and motion pictures on almost every major TV and Cable Network in the world including the BBC, ABC, NBC, CBS, the CBC, the History Channel, the Biography Channel, A&E, National Geographic Channel, Hulu, and Netflix, among others.